The Charles R. Walter studio piano is an American hand crafted piano like all of the Charles R. Walter pianos. ALL of the Walter Pianos are made of Only the best materials mostly from AMERICA AND GERMANY.  Only a few companies in the world can say that. Studios are 45 inches in height and are available with Renner or Walter actions and are available in all woods and finishes. The bass strings are longer than most other 50-52 inch brands like Kawai or Yamaha. So if you are thinking of only a 48 inch or bigger piano you should consider the Charles R. Walter piano as a marvelous American choice.
Studio Ebony Gloss
Versatile is the word for this lovely model which fits perfectly into any decor. Fluted legs and "harp design" music desk further enhance its beauty. Available in Walnut, Cherry, Oak, and Mahogany. Shown here in high sheen Walnut.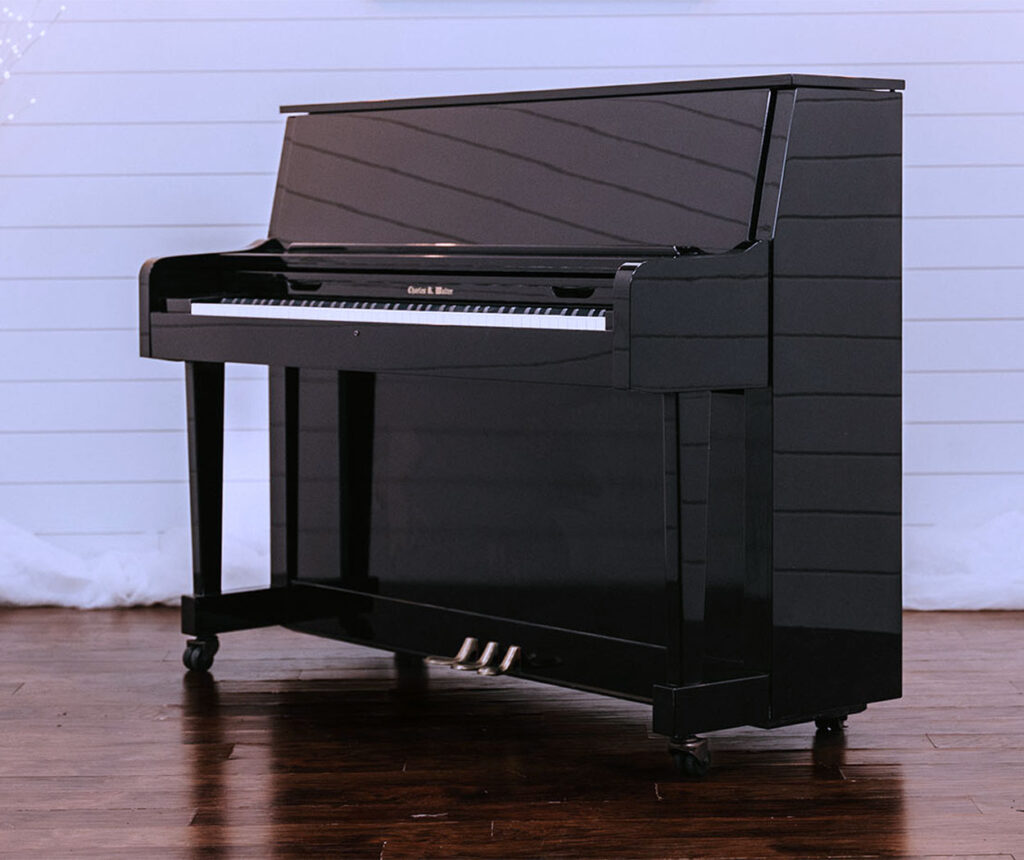 Studio Ebony Satin
The elegance and grace of 18th Century France are captured in this magnificent model. The music desk, true to the styling of the period, features a custom antique brass inset. Shown here in Cherry.

Studio Specifications
Our professional studio pianos are ruggedly designed to meet the most rigid school specifications and long hours of student practice. The extra-thick butcher block keybed, solid hardwood (Walnut, Oak, Cherry, or Mahagony) legs and toeblocks, and ball bearing, double-wheeled casters make this piano ideal for situations where the piano must be moved frequently. At the same time, the clean lines of this design and recessed toe-block present a more stylish appearance.
All of the features built into the W-48 scale are also found in the studio piano. The fallboard lock is standard equipment; top locks are available on special order. Available in Ebony, Oak, and Walnut in either High Polish, Semi Polish, or Satin finish. Also available in Oiled Oak and Walnut. The ideal piano for schools, churches, auditoriums, homes, rectories, professional studios, practice rooms, theatres, colleges, and universities. Height 45″, depth 24 3/4″, width 58 1/2″
Number of keys

88

Number of dampers

72

Height

floor to keybed, 23 3/4″

Action

full size studio (direct blow) – Renner or Walter

Hammers

14#, reinforced, mothproofed, Australian felt

Key

16 3/16″ long, 1″ tall plus keybutton; individually weighted

Key material

basswood

Key covering material

white-ivorine (acrylic resin) black – Phenolic resin; longer grand size

Keybed thickness

1 5/8″ butcherblock construction

Keybed material

Poplar

Plate

grey iron casting finished in special bronze – O.S. Kelly – Ohio – Steinway owned

Speaking length of longest string

48 1/2″ (overall length 57 1/8″)

Soundboard

close-grained Sitka or Bavarian Spruce (not laminated)

Size of soundboard

37 3/16″ x 56 1/4," 2090 square inches

Pinblock

29 ply delignit

Tuning pins

2/0 x 2 1/2," nickel plated head, blued thread

Pin torques

100 to 200 inch pounds

Back posts

5 (2 1/2″ x 3 1/2″) Sitka Spruce

Pedals

3(soft, base sustain, full sustain)

Pedal material

solid brass

Casters

steel

Hardware

solid brass

Cabinet material

Mostly 5 ply lumbercore throughout

Mouldings

solid walnut, solid cherry, solid oak, solid mahogany

Lustrous cabinet finishes

numerous coats of stain, wood filler and lacquer, painstakingly rubbed by hand, produce the deep luster of Walter cabinets… comparable to the finish of the finest furniture.

Cabinet dimensions

Height 43 3/8," depth 25." Add 3/4″ to depth and 1 1/4″ to width for French Provincial and Queen Anne.